Die Educause Learning Initiative ist bekannt durch den Horizon Report, aber auch die 7 Things you should know about Serie bringt immer wieder interessante Zusammenfassungen heraus.
Zuletzt ist ein PDF mit dem Titel "7 Things You Should Know About iPad Apps for Learning" erschienen. Unter anderem ist dort folgendes zu lesen:
"Why is it significant?"
As a single device that is smaller than a laptop, the iPad combines robust computational functionality with a screen large enough to serve as a legitimate replacement for printed textbooks and other course materials, with the added benefi ts of interactivity.
Es werden aber auch Zukunftsperspektiven, Problemen und der Bezug zum Lernen benannt. Wer sich auf zwei Seiten in das Thema Paducation einlesen möchte, dem sei der Download auf jeden Fall empfohlen.
Paducation?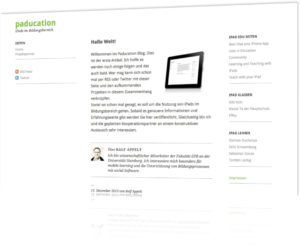 Ich werde in Kürze wenigstens ein Projekt begleiten bei dem es um den Einsatz von iPADs an Hamburger Schulen geht. Alles weitere wird es im Projektblog unter paducation.eu geben. Für interessante Hinweise u.ä. in diesem Zusammenhang bin ich natürlich dankbar.